Turning Real Estate into Real-Time Real Estate
Corporate mobile apps support improved departmental communication, prompt issue resolution, and more agile and effective work completion.
When it comes to buying and selling real estate, many are confused and dissatisfied. However, a lot of smartphone users now utilize specially designed real estate applications to look for, pick out, and purchase their ideal homes at the most competitive rates. In other words, creating a real estate mobile app is a terrific way to help clients buy or sell homes without taking any chances or being uncertain.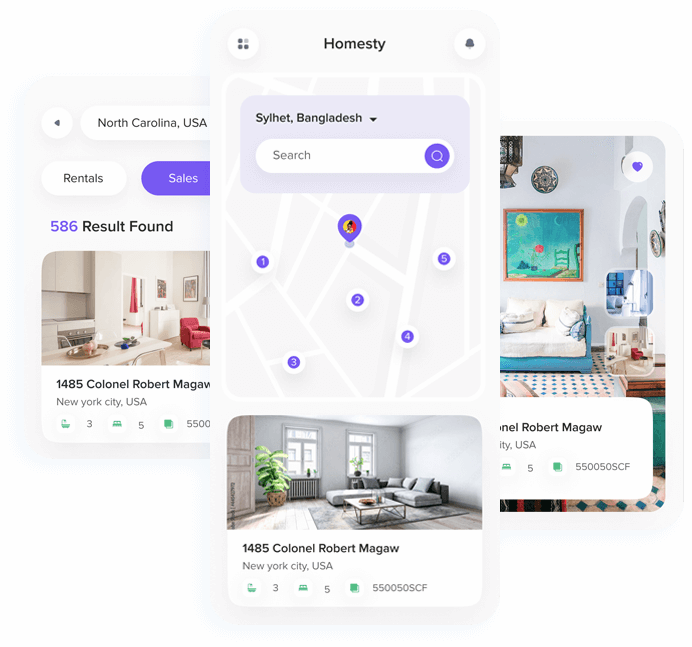 Real Estate App Development
Features
Appstudio Inc, a mobile app development firm, is dedicated to providing organizations with digital solutions across all sectors, including real estate.

Advance Search
Functionality & Filter
Advanced search tools and filters help you locate the precise material you're looking for by limiting the scope of a search query and removing extraneous data. When looking for homes in real estate, this might be very useful.

Interactive
Map
Thanks to interactive maps, information may now be shared online inside a company or with the general public. Interactive maps may make looking at homes in real estate easier and more enjoyable.

Property
Listing
This feature makes it simple for app users to shortlist properties. It helps them make judgments about whether to buy or rent the property. This feature allows users to view their preferred properties anytime and from any location.

Payment
Integration
Integrated payment systems streamline the payment acceptance process and integrate automatic payment acceptance. For real estate, payment integration can enable buyers/renters ease of use when paying for their desired property.

Virtual
Tours
With the help of a virtual tour, you can give potential buyers a look at a finished, furnished interior, making it simpler for them to visualize living there. Virtual tours have drawn more views and produced more leads than text and still images.

Property
Estimators
For a number of purposes, including as financing, sales listing, investment analysis, property insurance, and taxation, a real estate estimate is required. Life is a lot simpler when you have an app that can take care of all of that.

Global Buyers
Access
Real estate professionals trying to sell or rent a home to the best possible buyer or renter may find it helpful to have access to purchasers from all over the world. Real estate brokers may accomplish that thanks to the feature that allows them to reach worldwide buyers.

Qualified
Leads
Qualified leads have a higher likelihood of becoming paying clients. A company may increase the effectiveness of its sales process by qualifying leads (and practical). Real estate salespeople must qualify their leads to maintain a productive sales system.
For the convenience and dependability of our clients, we assist in developing dependable and real-time real estate app solutions for both the web and mobile.
Request a Proporsal
Our App Solutions Are Here for You Whether You're
Dealing with Buyers, Sellers, or Aggregators!
Appstudio Inc offers our clients the most effective and efficient mobile app solutions that enhance the whole real estate process with ease and real-time functionality.

Real Estate Buyers
Our real estate mobile app solutions are ideal for allowing buyers to quickly browse property listings, obtain price quotes, and take virtual tours before making a decision.

Real Estate Company or Sellers
Our real estate mobile app solutions are excellent for helping sellers advertise properties depending on location and rapidly reach out to buyers across the world.

Real Estate Aggregators
A real estate aggregator is a website or software program that gathers MLS listings and real estate-related data from many sources.